Manufacturer
Toyota Motor Corporation
Production
1997–present
Class
Hybrid car
Layout
FF layout
The Toyota Prius (pronounced /ˈpriːəs/) is a full hybrid electric mid-size car developed and manufactured by the Toyota Motor Corporation. The Prius is the most fuel efficient gasoline car currently sold in the U.S. according to the United States Environmental Protection Agency. The EPA and California Air Resources Board (CARB) also rate the Prius as among the cleanest vehicles sold in the United States based on smog forming and toxic emissions.
The Prius first went on sale in Japan in 1997, making it the first mass-produced hybrid vehicle. It was subsequently introduced worldwide in 2001. The Prius is sold in more than 40 countries and regions, with its largest markets being those of Japan and North America. In May 2008, global cumulative Prius sales reached the milestone 1 million vehicle mark, and by early 2010, the Prius reached worldwide cumulative sales of 1.6 million units. As the global top seller market, the U.S. made up more than half the Prius sold worldwide, with 814,173 units registered by December 2009.
Development
On January 16, 1992, the Toyota Motor Corporation announced the Earth Charter, a document outlining goals to develop and market low emission vehicles.
In September 1993 Toyota R&D Executive Vice President Yoshirio Kimbara created G21, a committee to research cars for the 21st century. On February 1, 1994, the first official meeting of the G21 project team took place. The team determined the goal of G21 is to create a car that is resource and environmentally friendly while retaining the benefits of modern cars. The development effort was led by Takehisa Yaegashi, who was tasked with building a car that bridged the gap between electric and gasoline powered vehicles.
1995–1996 (prototype)
In late 1994, the G21 team designed a concept car with a hybrid engine for the 1995 Tokyo Motor Show. The vehicle was named "Prius", the Latin word for "prior" or "before". It was shown on October 27, 1995. In late 1996, test driving began.
1997–2001 (model NHW10)
NHW10 (First Generation)
Production
1997–2001
Assembly
Takaoka, later Motomachi, Japan
Class
Compact car
Body style(s)
4-door sedan
Engine(s)
Toyota Hybrid System
Gasoline: 1.5 L 1NZ-FXE DOHC I4
13.5:1 compression
43 kW (58 hp) @ 4000 rpm
102 N·m (75 lb·ft) @ 4000 rpm
Electric: 288 V motor
30 kW (40 hp) @ 940 rpm
305 N·m (225 lb·ft) @ 0 rpm
Wheelbase
2,550 mm (100.4 in)
Length
4,275 mm (168.3 in)
Width
1,694 mm (66.7 in)
Height
1,491 mm (58.7 in)
The first Prius, model NHW10, went on sale on December 10, 1997. It was available only in Japan, though it has been imported privately to the United Kingdom, Australia, and New Zealand. Many of these cars are now being exported as second-hand vehicles to New Zealand and other countries.
To handle the voltage between the battery and electric motor, the semiconductor core inverter unit was modeled on heavy-duty transistors used by the Shinkansen bullet train. The first production model NHW10 Toyota Prius was rolled out of Toyota's Takoka factory in Toyota City, Aichi near Nagoya on December 1997, followed by the start of two years of Japan-only sales.

Side view of the NHW10 Toyota Prius
As uncovered by engineer testing, the NHW10 Prius was vulnerable to reduced performance in hotter climates and at higher altitudes; as a result, early examples featured an instrument-panel indicator warning should the hybrid system be in danger of shutting down. This gauge, designed in the shape of a turtle, was used until 1999.
The first generation Prius, at its launch, became the world's first mass-produced gasoline-electric hybrid car. Japan sales goals were 12,000 units annually, at a price of US$16,929 per vehicle. Rivals and analysts estimated that the first generation Prius cost as much as US$32,000 to produce, meaning that each NHW10 model was sold at a loss. The vehicle's introduction served as Toyota's launch effort for a new generation of 'green' vehicles aimed at reducing air pollution and increasing fuel efficiency. Toyota initially forecasted that hybrids will account for a third of the world's auto market as early as 2005.
The NHW10 Prius styling originated from California designers, who were selected over competing designs from other Toyota design studios.
2001–2003 (model NHW11)
NHW11 (First Generation)
Production
2000–2003
Assembly
Toyota City (Motomachi), Japan
Class
Compact car
Body style(s)
4-door sedan
Engine(s)
Toyota Hybrid System
Gasoline: 1.5 L 1NZ-FXE DOHC I4 VVT-i
13.0:1 compression
52 kW (70 hp) @ 4500 rpm
110 N·m (82 lb·ft) @ 4200 rpm
Electric: 273.6 V motor
33 kW (44 hp) @ 1040 rpm
350 N·m (258 lb·ft) @ 0 rpm
SULEV
Transmission(s)
1-speed planetary gear
Wheelbase
2,550 mm (100.4 in)
Length
4,308 mm (169.6 in)
Width
1,694 mm (66.7 in)
Height
1,463 mm (57.6 in)
Curb weight
1,254.2 kg (2,765 lb)
The 2001–2003 Prius for the United States market was powered by a 1.5 liter 4 cylinder gasoline engine, a permanent magnet AC electric motor, and a 274-volt nickel-metal hydride (Ni-MH) battery pack. The gasoline engine developed 70 hp (52 kW) and 82 ft·lbf (111 N·m) of torque. The electric motor generated a maximum of 44 hp (33 kW) and 258 ft·lbf (350 N·m) of torque.
The NHW11 Prius became more powerful partly to satisfy the higher speeds and longer distances of Americans drive. The engine and motor power were increased over the previous model. Air conditioning was standard equipment.
The vehicle was the second mass-produced hybrid on the American market, after the two-seat Honda Insight. While the larger Prius could seat five, its battery pack restricted cargo space. The vehicle interior featured a dash-mounted shift lever, and a small touch screen with a hybrid powertrain display. This feature showed the vehicle operation regarding the interplay between gasoline engine, battery pack, and electric motors, and could also show a bar graph of fuel economy results.
In the United States, the NHW11 was the first Prius to be sold. The Prius was marketed between the smaller Echo and the larger Corolla. The published retail price of the car was US$19,995. The California Air Resources Board (CARB) classified the car as a Super Ultra Low Emission Vehicle (SULEV). Prius owners were eligible for up to a US$2,000 tax credit from their gross income. In contrast with the prior generation model, Toyota executives claimed that the company broke even financially on sales of the NHW11 Prius.
European sales began in September 2000. The official launch of the Prius in Australia occurred in 2001 after the Sydney Motor Show, although sales were slow until the NHW20 model arrived.
2004–2009 (model NHW20)
NHW20 (Second Generation)
Production
2004–2009 (North America, Japan)
2004–present (China, Europe)
Model year(s)
2004–2009
Assembly
Tsutsumi, Japan (Toyota City)
Kariya, Aichi, Japan (Fujimatsu)
Chengdu, Sichuan, China (Chinese domestic market only)
Class
Midsize car
Body style(s)
5-door hatchback
Engine(s)
Toyota Hybrid System II
Gasoline: 1.5 L 1NZ-FXE DOHC I4 VVT-i
57 kW (76 hp) @ 5000 rpm
115 N·m (85 lb·ft) @ 4200 rpm
Electric: 500 V
50 kW (67 hp) @ 1200 rpm
400 N·m (295 lb·ft) @ 0 rpm
AT-PZEV
Hybrid system net horsepower: 110 hp (82 kW)
Transmission(s)
1-speed planetary gear
Wheelbase
2,700 mm (106.3 in)
Length
4,450 mm (175.2 in)
Width
1,725 mm (67.9 in)
Height
1,490 mm (58.7 in)
Curb weight
1,317 kg (2,900 lb)
The Prius was completely redesigned as a mid-size liftback, sized between the Corolla and the Camry, with redistributed mechanical and interior space significantly increasing rear-seat legroom and luggage room. The model is 6 inches (150 mm) longer than the previous version. Its more aerodynamic Kammback body balances length and wind resistance resulting in a drag coefficient ( Cd) of 0.26. The development effort, led by chief engineer Shigeyuki Hori, led to 530 patents for the vehicle.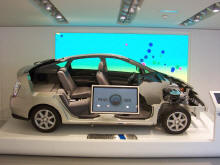 2006 Prius cut-away in a Toyota showroom in Paris
The Prius uses an all-electric A/C compressor for cooling, an industry first, and also adds an electric power steering system to further minimize engine belt-driven engine accessories. Combined with a smaller and lighter NiMH battery, the NHW20 is more powerful and more efficient than the NHW11. In the U.S., the battery pack of the 2004 Prius is warranted for 100,000 miles (160,000 km) or 8 years. The warranty for hybrid components in California and the seven Northeastern states that have adopted the stricter California emission control standards is 150,000 miles (240,000 km) or 10 years.
It is classified as a SULEV (Super Ultra Low Emissions Vehicle) and is certified by California Air Resources Board as an "Advanced Technology Partial Zero Emission Vehicle" (AT-PZEV).
Among the Prius's options are Toyota's implementation of a Smart Key System (the feature can be user-deactivated), DVD navigation on the MFD, Vehicle Stability Control and Bluetooth for hands-free calling. A new Intelligent Parking Assist system was available in Japan and Europe since its launch.
Production of the Prius for the Chinese market began in December 2005 with a target of 3,000 unit sales by Sichuan FAW Toyota Motor, a joint venture with First Automobile Works. It was reported that a total of 2,152 Prius were sold in 2006 and 414 in 2007. In early March 2008, Toyota cut the price of Prius by up to eight percent or $3,000 to 259,800 yuan (US$36,500). It was thought that the sales dropped as a result of both a lack of acceptance and increased competition. The Honda Civic hybrid was imported to China from 2007.
Research plug-ins
From 2006 to 2009 Toyota tested 126 Prius models in the U.S., Japan and Europe that had the NiMH battery replaced with a lithium-ion battery pack.
In July 2007, Toyota received both Japanese and American governmental approval to begin testing plug-in hybrid models using a modified NiMH battery on public roads. The first plug-in Prius in America went to South Carolina. Researchers at the Advanced Power and Energy Program at the University of California, Irvine and the Institute of Transportation Studies at the University of California, Berkeley began testing two specially made Prius and analyzing driver behavior, study air quality and energy use.
Model year changes
2005 (2006 US model year) introduced some minor cosmetic changes, such as a higher-resolution liquid crystal display, as well as new optional features such as a backup camera, advanced air bags and an upgraded audio system with an auxiliary input. In 2006 (2007 US model year) the Prius added side-curtain air bags (standard on all models.) A Touring Edition was introduced, with an elongated and larger rear spoiler as well as larger, sharper-pointed 7-spoke 16" alloy wheels with plastic hubcap covers to protect them from scratches when parking against the curb. The Touring Edition also comes with a firmer European-style tuned suspension, standard high-intensity-discharge (HID) headlights and integrated (non-HID) fog lights.
In 2005, Toyota had to fix a software glitch that caused the Prius engine to enter "limp" mode with only-electric operation, following 68 stall complaints in the U.S.
Crash testing results
NHTSA (United States) crash testing of the 2004 US model year Prius yielded a five-star driver and four-star passenger rating in the frontal-collision test (out of five stars). Side crash results were four out of five stars for both front and rear seats. The car scored four out of five stars in rollover testing.
IIHS crash tests score the Prius "Good" overall in frontal collisions and "Good" overall in side-impact collisions in models equipped with side airbags. A "Poor" score is given to models without side airbags. Side curtain and torso airbags became standard on 2007 American models.
In 2004, EuroNCAP tested the Prius. It earned the following ratings: Adult Occupant:
Child Occupant:
Pedestrian:
.
2009– (model ZVW30)
ZVW30 (Third Generation)
Production
2009–present
Model year(s)
2010–present
Assembly
Tsutsumi, Japan (Toyota City)
Kariya, Aichi, Japan
Chengdu, Sichuan, China (Chinese domestic market only)
Class
Midsize car
Body style(s)
5-door hatchback
Engine(s)
Toyota Hybrid System


Gasoline engine:
1.8 L 2ZR-FXE I4 Dual VVT-i (Atkinson cycle)
Power: 98 hp @ 5,200 rpm
Torque: 105 lb-ft @ 4,000 rpm
Electric motor:
Power: 80 hp
Torque: 153 lb-ft


AT-PZEV
Hybrid system net horsepower: 134 hp

Transmission(s)
1-speed planetary gear
Wheelbase
2,700 mm (106.3 in)
Length
4,460 mm (175.6 in)
Width
1,745 mm (68.7 in)
Height
1,480 mm (58.3 in)
Curb weight
1379 kg (3,042 lb)
Toyota debuted the new Prius (2010 US model year) at the 2009 North American International Auto Show, and sales began in Japan on May 18, 2009. Its new body design is more aerodynamic, with the coefficient of drag reduced to 0.25 Cd. An underbody rear fin helps stabilize the vehicle at higher speeds.
The estimated fuel-efficiency rating using the U.S. EPA combined cycle is: 50 mpg-US (4.7 L/100 km; 60 mpg-imp). The Prius becomes the most efficient car powered by liquid fuel available in the U.S. in 2009, based on the official rating. Only the first-generation Honda Insight (2000–2006) equipped with a manual transmission attained higher mileage. The official UK fuel efficiency data for the Prius T3 is: Urban 72.4 mpg-imp (3.90 L/100 km; 60.3 mpg-US), Extra Urban 76.4 mpg-imp (3.70 L/100 km; 63.6 mpg-US), Combined 72.4 mpg-imp (3.90 L/100 km; 60.3 mpg-US).
The 1.8-liter gasoline engine (previously 1.5 liters) generates 98 hp, and with the added power of the electric motor, total horsepower is 134 hp (previously 110 hp). The larger engine displacement allows for increased torque, reducing engine speeds (RPM) which in turn increases fuel economy at highway speeds. With an electric water pump, the Prius engine is the first production engine that requires no accessory belts, which also further improves fuel economy. The electric motors and other components of the hybrid powertrain are also smaller and more efficient. Toyota estimates the new inverter, motor and transaxle are 20 percent lighter. Disc brakes replace the previous rear drum brakes.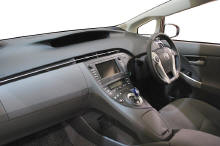 Interior or right-hand drive 2009
For the Prius, Toyota used a new range of plant-derived ecological bioplastics made from the cellulose in wood or grass instead of petroleum. The two principal crops are kenaf (a member of the hibiscus family and related to cotton and okra) and ramie, commonly known as China grass and one of the strongest natural fibres, similar to flax in absorbency and density. Toyota says this is a particularly timely breakthrough for plant-based eco-plastics because 2009 is the United Nations' International Year of Natural Fibres, which covers kenaf and ramie.
In Japan, it is reported that Toyota cut the price of Prius from 2.331 million yen to 2.05 million yen to compete with Honda Insight. Toyota filed over one thousand patents during the development of the latest Prius. Toyota's goal is to sell about 400,000 units annually around the globe and 180,000 units in the U.S. by 2010. In May 2009 production was increased to 50,000 units per month or 600,000 annual units to help meet higher than projected demand. In 2009, Toyota Prius experienced two consecutive year over year sales decrease to 139,682 units in the U.S., from 181,221 units in 2007. In addition, Toyota Prius was launched in Malaysia on August 4, 2009.
In early 2010, Toyota considered to add a monthly production of 6,000 at the Motomachi factory, in central Japan, the plant that built the first-generation Prius which was launched in 1997. However, as customers' wait time in Japan shortened from eight months at launch to three months and sales in the United States dropped 40 percent in February 2010 from that of October 2009 following concerns about Toyota vehicles' safety, Toyota had to reduce the monthly production by 10 percent to 45,000 units a month in March 2010.
In the US the Prius will have a starting base price of US$22,400 excluding destination charges, and includes 15-inch alloy wheels, Vehicle Stability Control and interior amenities including cruise control, 6-speaker audio, Toyota's keyless entry/ignition Smart Key System and a unique Touch Tracer Display designed to help the driver's eyes stay on the road when using the steering-wheel-mounted climate and audio controls.
Sales of the Prius also started in the Philippines on June 22, 2009, for a SRP of Php 2.2 million (approximately US$41,800) about half for import duties and other taxes, making it the first hybrid vehicle available in the Philippines. The launching for the Latin American market took place in Costa Rica on July 3, 2009. The Prius will be sold in Costa Rica for US$41,000 including tariffs and all taxes.
The US Prius will offer three optional packages:
A Navigation Package which includes a voice-activated touch-screen DVD-based navigation system and an 8-speaker JBL audio system with XM satellite radio, MP3/WMA playback capability, Bluetooth and backup camera. The Prius in Japan is equipped with G-BOOK as of May 18, 2009.
A Solar Roof Package includes the Navigation Package and adds a power tilt/slide moonroof along with a solar powered ventilation system which uses an electric fan to help keep the vehicle cooler when parked under the sun by venting the interior's heated air with the outdoors. The solar roof was originally intended to assist in charging the vehicle's battery, but the system was configured to only power ventilation when it was found that the battery-charging configuration created electromagnetic interference that affected the radio. A new remote air-conditioning feature allows the driver to activate the air conditioner prior to entering the vehicle.
An Advanced Technology Package includes the Navigation Package while adding a Pre-Collision System, Dynamic Radar Cruise Control, Lane Keep Assist and Intelligent Parking Assist.
Other options include Safety Connect, while LED headlamps come standard on the Prius V trim.
Plug-in version

Prius Plug-in at the Frankfurt Motor Show
The Prius Plug-In Concept was shown at the October 2009 Tokyo Motor Show, the 2009 Frankfurt Motor Show, and the 2009 LA Auto Show. According to Toyota a total of 500 Prius plug-in hybrids (PHEV) will be sold to select customers, 350 will be delivered to customers in Europe and Japan in late December 2009, along with 150 models to be released in the U.S. in early 2010. These models will be sent to limited geographical areas and will contain special data tracking devices designed to allow Toyota to monitor the car's usage for further development of the plug-in hybrid system. Total all-electric range is 14.5 mi (23 km) with speeds up to 62 mph (100 km/h). The lithium-ion battery was co-developed with Panasonic.
Toyota announced a target of retail sales for the PHEV in late 2011. Toyota indicates that it plans to sell tens of thousands of plug-ins to the public.
Crash testing results
The IIHS rated the 2010 Prius as Good in every crash category except for "structure/safety cage", which was rated Acceptable. In EuroNCAP testing the Prius is given an overall rating of
, and rated 88% for adult occupant protection, 82% for child occupant, 68% for pedestrian, and 86% for safety assist.
Brake fix and radar cruise
On February 9, 2010, Toyota announced a voluntary global recall of third generation 2010 Prius models manufactured from the current model's introduction through late January. Affected models, including 133,000 Prius vehicles in the U.S. and 52,000 in Europe, are to receive an anti-lock brake software update to fix brake response over rough roads, following reports of delayed braking response on certain surface conditions. Apple co-founder and Prius collector Steve Wozniak was also quoted by media outlets regarding a possible cruise control issue on one of his several Priuses, where the steps for "upping the speed" using the Dynamic Radar Cruise Control system allegedly caused unintended acceleration. Wozniak later maintained that he was misquoted, but did have an individual vehicle and customer service issue, while auto journalists and other Prius drivers suggested user error. On March 8, 2010, a publicized incident of alleged Prius acceleration in San Diego was later suspected to be a hoax or not repeatable.
Comparison of models
Feature
Model code
NHW10
NHW11
NHW20
ZVW30
Body style
4-door
Sedan
4-door
Sedan
5-door
Hatchback
5-door
Hatchback
First sales
1997
2000
2003
2009
Battery
Modules
40
38
28
28
Cells per module
6
6
6
6
Total cells
240
228
168
168
Cell voltage
1.2
1.2
1.2
1.2
Voltage total volts
288
273.6
201.6
201.6
Capacity amp-hours
6.0
6.5
6.5
6.5
Capacity watt-hours
1728
1778
1310
1310
Weight kilograms (kg)
57
50
45
44
Gasoline Engine
Power kW(hp)
43 (58)
52 (70)
57 (76)
73 (98)
at rpm
4000
4500
5000
5200
Electric Motor
Operating voltage
288
273
500
650
Power kW(hp)
30 (40)
33 (44)
50 (67)
60 (80)
Combined
Power kW(hp)
58 (78)
72 (97)
82 (110)
100 (130)
History
In 1994, Toyota executive Takeshi Uchiyamada was given the task of creating a new car which would be both fuel efficient and environmentally friendly. After reviewing over 100 hybrid designs, the engineering team settled on a hybrid engine design based on a 1974 TRW patent, but many technical and engineering problems had to be solved within the three years that the team was given to bring the car to the Japanese market, a goal they barely achieved as the first Prius went on sale in December 1997. A main problem was the longevity of the battery, which needed to last between 7 and 10 years. The solution the engineers came up with was to keep the battery pack between 60% and 40% charged, proving to be the "sweet spot" for extending the battery life to roughly that of the other car components.
The car was a modest success in Japan and after gathering several years of test data from the Japanese early adopters, the company felt it was safe to put it on sale in the U.S. and European markets in 2001. Sales were limited and customer waiting lists of up to 6 months were common during the first few years. In 2004, a complete redesign, increased production, and soaring fuel prices led to significant increases in sales.
Name
"Prius" is not a verb but a Latin comparative adjective or adverb, the neuter nominative singular form of the adjective whose corresponding masculine and feminine nominative singular forms are prior (see also Latin declension - Irregular adverbs and their comparative and superlative forms) with meanings "ahead, in front, leading; previous, earlier, preceding, prior; former; basic".
A Toyota spokesperson stated that "Toyota chose this name because the Prius vehicle is the predecessor of cars to come."
Some enthusiasts enjoy using "Prii" as the plural, which would be correct if "prius" were a regular second declension Latin noun. The actual Latin plural of the adjective is "priora" (Reference is slightly in error here). All of these forms are nominative case and there are several other forms for the other cases. As for the plural of "Prius" in English, Toyota has said that it is simply "Prius" and also that owners are welcome to use whatever they like.
Sales
Toyota announced on June 7, 2007 that it had sold 1 million hybrid vehicles globally, and that of those 757,600 were Prius. Nearly 345,000 of the first 1 million hybrid cars made by Toyota were sold in Japan. In May 2008, Toyota announced that its worldwide cumulative sales of the Prius had passed the 1 million mark.
The Prius, which is sold in more than 40 countries and regions, has its largest markets in Japan and North America. As at the end of April 2008, nearly 60% of all Prius sales have been in North America, where 183,800 vehicles were sold in 2007. That sales pace has accelerated in early 2008, with 66,100 vehicles sold in North America in the first four months, a rate that would result in nearly 200,000 sales if continued through the entire year. In fact, Toyota sold 21,757 Prius hybrids in the United States in April, setting a record for April sales and making the Prius the third most popular vehicle in the Toyota line, trailing the Corolla and the Camry. However, worsening economic condition in the U.S. caused the sales of Prius fall by 12.6% to 158,884 for the year 2008.
In Japan, July 2009 sales were nearly 4 times July 2008 sales. Since the redesigned Prius launched in Japan it has been the best seller for six consecutive months helped in part by government incentives. Toyota Prius became Japan's best selling vehicle in 2009 for the first time since its debut in 1997 as its sales almost tripled to 208,876. It overtook Honda Fit which was Japan's best-selling car in 2008 excluding Kei cars. It led to analyst questioned that the increase of sales of Prius might come at the cost of vehicles that could bring in higher margin. Competition from lower priced hybrid like Honda's Insight also made Toyota difficult to capitalize on Prius's success.
U.S. sales of the Prius began in August 2000. By 2001 sales there totaled 15,556, and by 2002 had reached 20,119. In 2004 sales there were 53,991, and doubled in 2005 to 107,897, about 60% of the world total of 180,000. By June 7, 2007, 266,212 Prius had been sold in the U.S., and accounted for 40% of the hybrid market there in 2006. As of November 2007 Toyota has sold 510,325 Prius in the US since its initial launch in 2000. Prius gasoline-electric hybrid mid-size sedan reported sales of 14,212 units for a best-ever December and best-ever year-end sales of 181,221 units, up 68.9 percent over 2006. By early 2010 the Prius reached worldwide cumulative sales of 1.6 million units, half of which have been sold in the US, with 814,173 Prius units registered by December 2009.
Annual sales worldwide and by region
(in thousands)
Year
World
Japan
North
America
U.S.
Europe
Other
1997
0.3
0.3
1998
17.7
17.7
1999
15.2
15.2
2000
19.5
12.5
5.8
5.6
0.7
0.01
2001
29.0
11.0
16.0
15.6
2.3
0.2
2002
28.1
6.7
20.3
20.1
0.8
0.2
2003
43.2
17.0
24.9
24.6
0.9
0.4
2004
125.7
59.8
55.9
54.0
8.1
1.9
2005
175.2
43.7
109.9
107.9
18.8
2.9
2006
185.6
48.6
109.0
107.0
22.8
5.3
2007
281.3
58.3
183.8
181.2
32.2
7.0
2008
73.1
158.9
2009
208.9
139.7
Design and technology
The Prius is a power-split or series-parallel (full) hybrid, sometimes referred to as a combined hybrid, a vehicle that can be propelled by gasoline and/or electric power. Components of the system include:
Regenerative braking, using motor-generators, which converts kinetic energy of motion into electrical energy that is stored in the traction battery, giving better braking performance and reducing wear on the brake pads;
A 1NZ-FXE internal combustion engine (ICE) using Atkinson cycle which is 12-14% more efficient than the more powerful Otto cycle. The gasoline engine normally shuts off during traffic stops and the accessories (including the air conditioning) are powered by the battery pack. The engine is used both to propel the vehicle and to recharge the batteries. Because of the availability of extra power from the electric motors for rapid acceleration (at lower speeds), the engine is sized smaller than usual for increased fuel efficiency and lowered emissions with acceptable acceleration (at lower speeds). The penalty of the Atkinson cycle is low specific power, so the battery and generator are needed to give extra power when accelerating, whilst allowing the vehicle to cruise on the low powered engine;
Two electric motor/generators: MG1 and MG2. MG1, reversible and up to 10,000 rpm, starts the engine and provides counter torque for the Continuously Variable Transmission (CVT). MG2 provides 50 kW (67 hp) between 1,200 to 1,540 rpm and 400 N·m (295 lb·ft) torque between 0 to 1,200 rpm, contributing to performance and economy. These motor-generators are used as generators when in regenerative braking mode, and as motors are capable of powering the vehicle at low speed (<~30 mph (48 km/h), 41 mph (66 km/h) in NHW20) travel. Each electric motor requires 1 kilogram (2.2 pounds) of neodymium;
A Hybrid Synergy Drive (HSD) unit that combines a planetary gearset that behaves like a Continuously Variable Transmission (CVT) called the Power Split Device to increase efficiency. The computer controlled HSD transaxle adjusts and blends the amount of power from the gasoline engine and electric motor-generator(s) as needed by the front drive wheels and rechargeable batteries.
A sealed 38-module nickel metal hydride (NiMH) battery pack providing 273.6 volts, 6.5 A·h capacity and weighing 53.3 kg (118 lb) is supplied by Japan's Panasonic. They are normally charged to 40–60% of maximum capacity to prolong battery life as well as provide a reserve for regenerative braking. Each battery uses 10 to 15 kilograms (22 to 33 pounds) of lanthanum;
Wind resistance is reduced by a drag coefficient of 0.25 (0.29 for 2000 model) with a Kammback design to reduce air resistance. Lower rolling-resistance tires are used to reduce road friction;
A vacuum flask for storing hot coolant when the vehicle is powered off for reuse so as to reduce warm-up time (US market);
An EV mode that allows drivers to operate on electric power only under low-power conditions for a limited duration of time.
Vehicle weight is reduced by the use of a flexible resin gasoline tank and by the use of aluminum instead of steel for the engine bay hood and hatchback;
Starting with the 2010 model (3rd generation), the new 1.8 liter 2ZR-FXE gasoline engine will feature advanced technologies such as the Atkinson cycle, a cooled EGR (Exhaust Gas Recirculation) system, intake-side VVT-i, and an electric water pump, permitting an engine design with no serpentine belts, improving efficiency.
The computer program used in the Prius shuts off the engine when the car is stopped, is reversing, or is descending hills, thereby dramatically decreasing fuel consumption in city driving. The HSD's on-board computer program determines when and how to use the engine, motor, or both to power the car and recharge the battery so as to maximize efficiency. Typically, a gasoline engine runs inefficiently at half-throttle, creating a choking condition called pumping loss, a major reason for the inefficiency of gasoline engines compared to diesels. The Prius minimizes pumping loss by using a high torque range as much as possible with the throttle fully open. Drive-by-wire throttle control technology and Toyota's Hybrid Synergy Drive (a torque combiner, electric drive, and computer control) are essential to this engine control. In addition to the immediate benefit of reducing fuel consumption and emissions, stopping the gasoline engine also improves the performance of the catalytic converter, as the exhaust gases from an idling engine tend to cool the catalyst below its optimal temperature.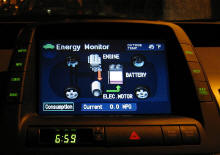 Energy monitor on the 2005 Prius multi-function display (MFD), showing energy flow to/from the engine, battery, and from the regenerative braking, as well as battery charge level.
Typical gasoline- or diesel-engine vehicles consume fuel when the vehicle is stopped, as is common in city driving. The Prius typically shuts down the gasoline engine and runs solely off the battery pack at low speeds and when stopped. A non-hybrid car also gets worse fuel consumption in city driving because its engine is continually used to accelerate the car to driving speed and then this energy is lost to friction brakes during stop-and-go driving. The Prius recaptures some of this energy by using regenerative braking to charge its battery pack while slowing down with its motor-generators in generator mode. For acceptable acceleration, the internal combustion engine on a "standard" car typically is much larger than needed for constant-speed travel, and is a relatively high power-to-weight ratio Otto cycle engine. By using both an Atkinson cycle gasoline engine, which whilst more efficient has a much poorer power to weight ratio, and an electric motor for acceleration, the Prius engine can nevertheless be a smaller size and still provide acceptable acceleration. This means such a hybrid can have high fuel efficiency (but slower top speed than comparable non-hybrid vehicles) when using the Atkinson cycle engine for cruising or city driving, though factors including driving style, air conditioning use, and short trips may offset some of this advantage. The frequent starting and stopping of the Prius engine does not cause noticeable additional wear or emission problems because the electric drive motors have enough power to quickly spin the engine to optimal speed (around 1,000 rpm) before fuel is admitted.
For any car, aerodynamic losses, which vary roughly as the velocity squared due to air drag are much greater on the highway than in low speed city driving. The Prius hybrid has less of an advantage in higher speed open road driving, typical of intercity driving. Nevertheless, the Prius still obtains improved fuel consumption under these circumstances since it can use a smaller and more efficient engine than would otherwise be required. The electric motor(s), powered by the battery pack, can provide the extra peak power needed for acceleration, passing and limited hill climbing. With low weight and the lowest drag coefficient of a production car in the U.S. market, the Prius is a very efficient highway traveler, getting 48 mpg-US (4.9 L/100 km; 58 mpg-imp) on the highway according to the U.S. EPA.
The environmental impact of the car's batteries has been questioned, though Toyota offers a $200 "bounty" for recycled batteries to try and prevent any toxins from entering the environment. An independent commodities consultant called the Prius "the biggest user of rare earths of any object in the world." To encourage battery recycling, dealers are paid a US$200 fee for return of the car's batteries. Toyota has laboratory reports that some Prius battery packs have lasted the equivalent of 180,000 miles (290,000 km). As the cars start to age, early reports have shown that in at least some cases the batteries can last in excess of 250,000 miles (400,000 km). Individual battery longevity will vary depending upon the treatment and use history of the battery pack. A degraded battery pack will reduce performance and fuel economy, but not leave the car inoperable.
EV mode
When the vehicle is turned-on with the "start" button, it is ready to drive immediately with the electric motor, while electric pumps warm the engine with previously saved hot engine coolant before the internal combustion engine is started. The delay between starting the car and starting the internal combustion engine is approximately seven seconds. A button labeled "EV" maintains Electric Vehicle mode after start up and under most low-load driving conditions. This permits driving with low noise and no fuel consumption, and is advertised as a "quiet" option for short journeys, for example in residential areas at night, in the Asia manual. The car automatically reverts to normal mode if the battery becomes exhausted. Prior to the 2010 model, the North American model did not have the "EV" button, although the "EV" mode is still supported internally by the Prius Hybrid Vehicle management computer.
Fuel consumption
Fuel consumption, or fuel-efficiency in cars is generally measured as distance travelled per unit volume of fuel, as in miles per gallon (mpg), or as the volume of fuel required to cover a given distance, as in liters per 100 kilometres (L/100 km). Diesel fuel does have about an 11% higher energy density than gasoline, so that needs to be taken into account in pure energy-efficiency calculations and comparisons. Fuel-price-efficiency calculations will vary between various parts of the world, with diesel fuel pump prices being higher than gasoline prices in some countries, whilst in others it is less expensive than gasoline.
The Prius is the most efficient car powered by liquid fuel available in the U.S. in 2009, based on the official rating. Only the first-generation Honda Insight equipped with a manual transmission attained higher mileage.
Plug-in hybrids use a larger electric vehicle battery pack that is recharged from external sources in order to further reduce fuel consumption. The NiMH batteries in a production PHEV will be built to handle deeper discharge cycles without loss of lifespan such as the NiMH battery pack in the Toyota RAV4 EV. Operation of the vehicle will be very similar to a normal hybrid, except that the electric operation will be more prevalent. In the case of a Prius PHEV, on the highway, the gasoline engine will operate as before, leaving the car with the same ability to accelerate and use freeways. Current converted Prius also operate in a high speed blended mode which can reduce but not eliminate fuel consumption on the freeway. When driving in slower conditions or with light loads, the batteries will be used first in a charge-depleting mode, allowing moderate commutes at low speeds (particularly under 41 mph/65 km/h) to be driven entirely on electricity. Once the batteries have been sufficiently discharged the car will automatically revert back to the charge-sustaining mode of the current stock Prius.